Disruptive technology
Since 2010, BLUUMI has made a continuous investment in R & D,
creating the platform for automated generation of native mobile applications
for iOS devices, Android and more advanced web pages.
Experts in coding
Native development100%

Integrations90%

Technical Analysis80%

Architecture80%

UX70%

MCommerce70%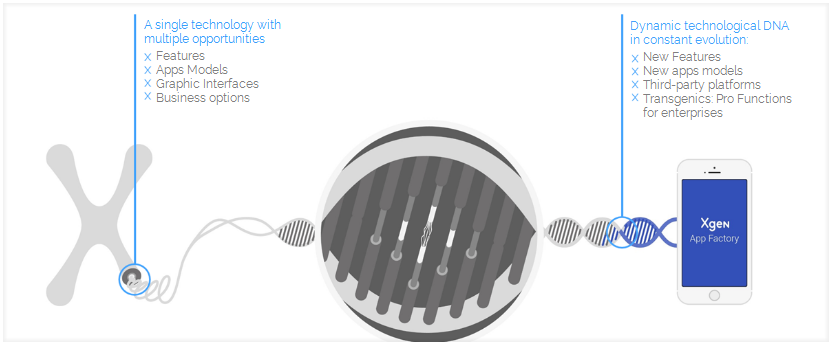 Bluumi DNA
In our technology everything fits together like a genetic sequence
The generator, the factory with its product models, the apps and their features, the content manager and user database, publishing to iOS / Android with its own developer account, etc.
Any company, thanks to this own development of Bluumi, can have with its own brand available
the most widely used Apps and Webs Generator currently in existence and integrate it with ERP, CRM, CMS
and / or any external database. All Webs and Apps developed can be managed by the clients themselves,
through the own CMS multi-language Meethodo, with support of online attention.
Asynchronous Native Technology
Our platform has been developed 100% with native technology integrated with dynamic update systems, using a selection of existing features, through JavaScript Object Notation (JSON) that is queried by the application programmed in native language, and shows the configuration created by the user.
Meethodo
The content of each application is managed by the companies through our own CMS Meethodo, which allows them to connect with all users who have the application downloaded through push technology, build the app dynamically, manage the content and extract the data contributed by the users.
Integrated publishing
Publishing in the Markets of iOS and Android is a 100% automated process. Both the compilation and installation of certificates and provisioning on the push messaging server and in the database is done using a single development account for each platform.
Hybrid Cloud
We integrate the different services of the App Generator technology through a hybrid cloud with servers dedicated to the storage, backup, compilation, publication and communication of the mobile applications and responsive Webs that are configured.