Through the CMS of our app creator, you can create online apps and web pages under your own brand (white label) and customize them for your customers.
This app builder is marketed under
SaaS licenses,
and includes:
iOS Mobile App and its publication in the Apple Store
Android Mobile App and its publication in the Google Play Store
Access to management panel Meethodo
Multiplatform responsive web

Push Unlimited Messaging

Hosting& Backup
Dominio para la página web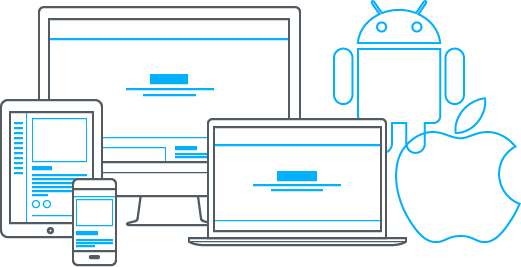 ---
Catchment
Creating online apps would help you get new customers who don't know how to create an application, but are interested in it.
Loyalty
You can offer it as a new service to build customer loyalty.
Facturation
Having a tool to create online apps increases revenue by being able to be marketed as another product of the portfolio.
Innovation
It gives your company an image of improvement and commitment to R&D.
---
Enterprise Generator
It is a product aimed at companies that have as customers a significant number of companies or businesses: Software providers, mobile operators, associations, service providers and domains, cloud services, hardware wholesalers, etc.

Product name: Sage Create Your App and Sage Create Your Website
Product to offer its clients: SMEs and Businesses
Country of marketing: Spain

Goal 2019: 2,500 customers
Goal 2020: 15,000 customers
Goal 2021: 45,000 customers

Client: Mediamarkt
Country of marketing: Spain

Goal 2019: 1,500 customers
Goal 2020: 13,000 customers
Goal 2021: 38,000 customers
Generator Solution
It is the reduced version of Enterprise Generator, intended for companies that want to enhance their products or services, as well as to retain their customers, providing digital value. It is designed for temporary work companies, private security, banking, associations, groups, wholesalers, etc.

Client:
Adecco Outsourcing
Product:
An application for each client in their portfolio, to improve internal communication with employees.
Country of marketing:
Spain
Licenses:
2,500
Functions:
Internal communication
Usage statistics
Operating costs Reduction
Ease of access to internal digital resources
Client-Employee communication tool
Internal survey system.
Marketplace Solution
Marketplace is an application to integrate the information, services and functionalities of hundreds of applications, made with the same generator, Enterprise or Solution.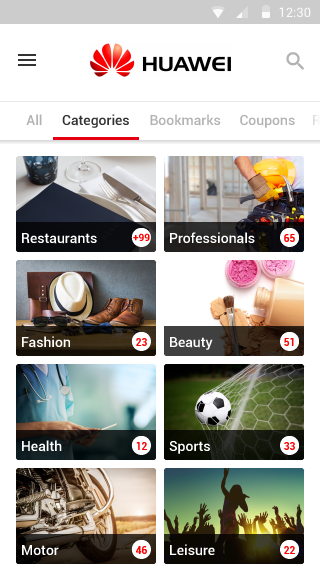 The user of the Marketplace app, finds the information, services and other options, sorted by categories and with a filter for the services near to their position.
Each of the businesses that appear on the Marketplace also has its own custom app and web.
Marketplace Solution, generates an important Big Data, that benefits the app users by the concentration of promotions and services, and the owners, by allowing non-regular customers of their business to have direct access to them.
Marketplace is a very interesting tool to add value, build loyalty to a distribution channel, or groups of end customers SMEs of a brand or company.

Features
You will be able to generate applications with all these native options for iOS and Android.
You can also add advanced features:

Apps and Webs Management
The most complete CMS mobile for our apps and responsive webs, with hundreds of customization options, real-time statistics and a cutting-adege push platform.
All webs and apps can be managed by the clients themselves, using the Meethodo's own multi-language CMS, with on-line support, to connect and seduce users with targeted messages, promotions, surveys, news, events, becoming In the best mobile marketing tool and analytics.
You have options like send push, edit content, menu, design and functionality , both before and after the app is published in the markets.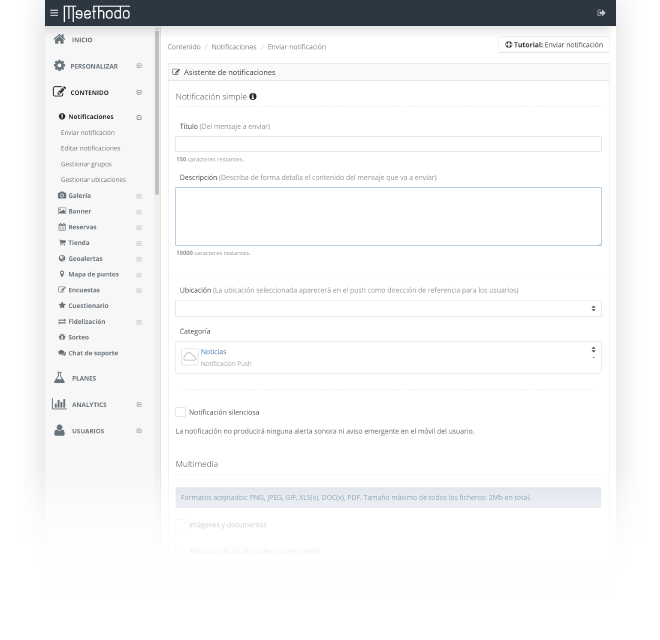 App Factory Management
A complete CMS to manage the publishing and billing of the applications you generate with your App Factory.
You will be able to create and edit default application templates, control their publication status, assign prices by model, query statistics and many other useful management tools.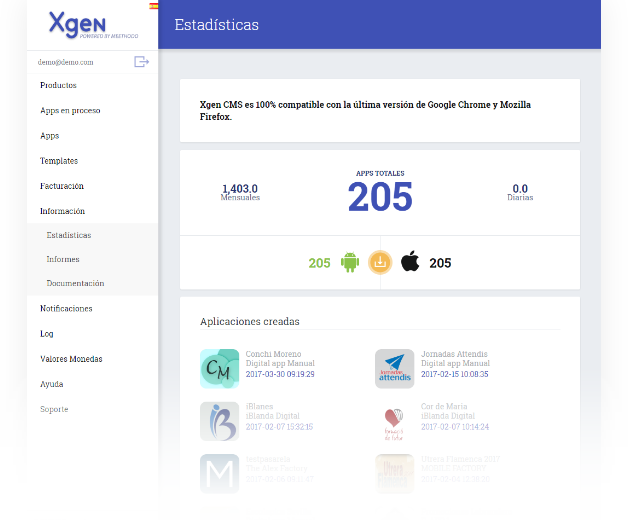 Be part of the Mobile Era